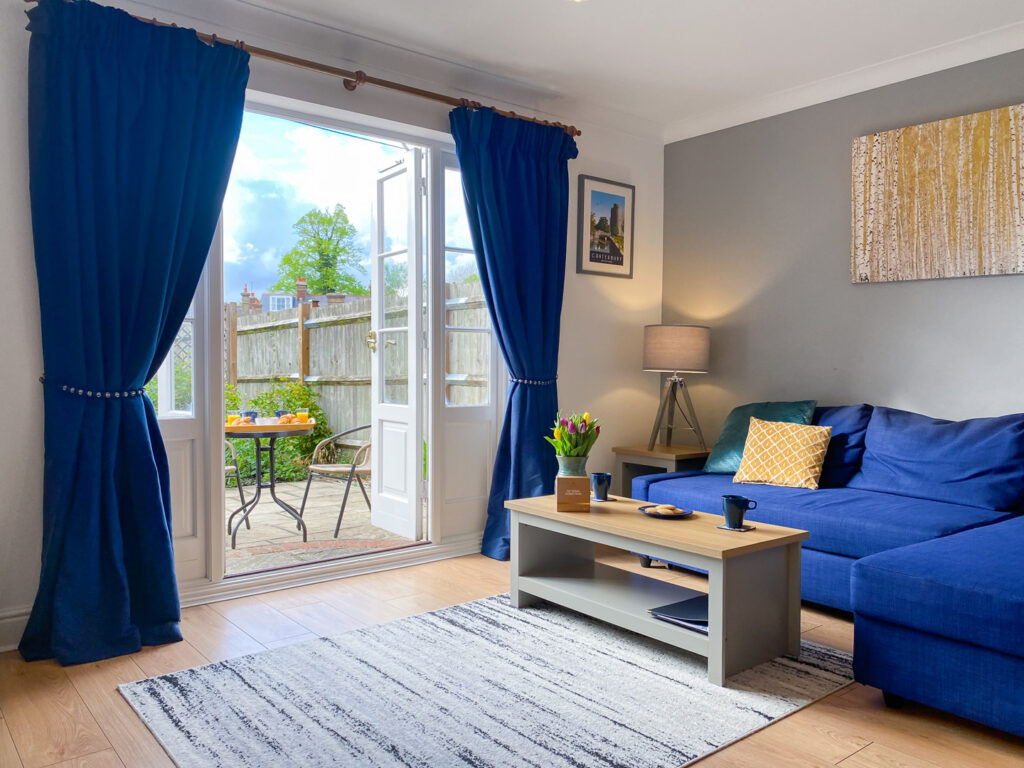 A beautiful 3-bed property in the heart of Canterbury city centre
There is everything you need in this comfortable 3 bedroom property for you to enjoy your stay in the beautiful city of Canterbury. The property is within a few minutes stroll from the city centre, close to the shops, bars and restaurants. The famous Marlowe Theatre and the Curzen Cinema are just around the corner.
Entrance Hall
Fully equipped kitchen with all modern appliances including fridge/freezer, oven and hob, microwave, coffee machine, washer/dryer
Smart TV
High speed broadband (65Mb/s)
Sofabed in open plan living/dining room
Bed 1 – King-size bed / Twin

 

Bed 2 –Double bed
Bed 3 – Single bed
Bathroom – Bath with overhead shower, basin & WC
Downstairs WC & basin
All linen and towels provided
Parking for 1 car

 

Private rear courtyard garden with seating
The property is about a 10 minute walk to Canterbury West Train station and about a 15 minute walk through the city to the bus station.
It is situated only a 5 minute walk away from the beautiful Westgate Gardens and only a short stroll to the high street.
The main bedroom can be set up as a kingsize bed or twin depending on your preference.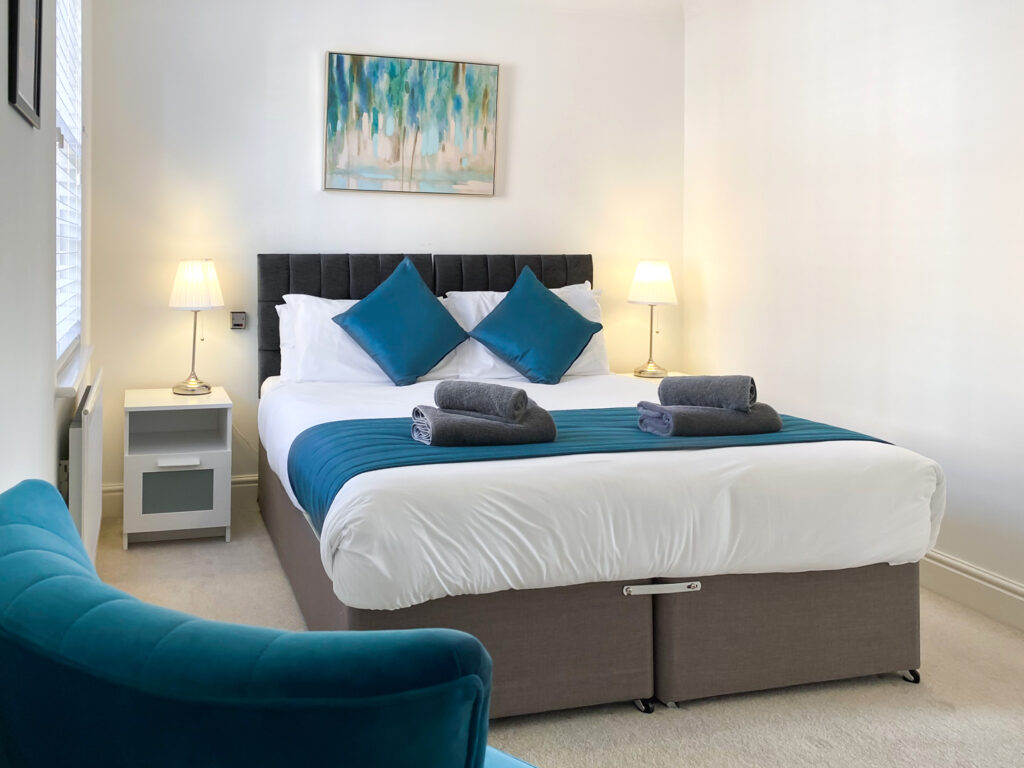 Welcome to St Peters Lane, a beautiful 3 bedroom house located less than a 5 minute walk from Canterbury High Street. The property has 3 bedrooms, an outdoor patio area and has free parking for one car. 
We were blown away with how close this house was to Canterbury. The location was perfect, with only a 2 minute stroll to the cobblestoned high street.
Rachel was amazing with all her communication to us, and was quick to respond to any questions we had.
Our week long stay was perfect, and we will definitely be back!!
This is a really great property in a fabulous location. Everything is spotless and well thought through and our host was brilliant.
Fabulous house! Very warm and clean and peaceful. The free parking in carpark was essential or you can park at the back of the house but we stayed in carpark. The arrival video was very useful.
The was spotless and well equipped. Beds were comfy, sofa was spacious and had everything we needed for our stay.
Really lovely house and superb location right behind the Marlowe Theatre. Perfect base for exploring canterbury, shopping, cathedral, theatre, pubs, restaurants all within walking distance. House comes with all the amenities including wifi and cleaning products, tea/coffee etc so you dont have to worry. We will definitely come back.
We had a great stay here with our family and little one. The house is really well located to get into town easily. The house was extremely clean and generally really nicely presented, which lovely and meant we could just relax and enjoy it. They also had provided a few bits we hadn't expected like washing up bits and cooking basics like oil and salt and pepper. As well as tea, coffee and sugar. We would definitely recommend
it and come back again.

Useful note for parents - it's a small microwave so big sterilisers don't fit but the sterilising bags do. And don't forget you need your own travel cot, like we almost did!
Well presented property in a fantastic spot for exploring the city centre.
Brilliant location and a wonderful property - we had an excellent time staying here!
Wonderful location! Great holiday home
Rachel was a great host, she has great communication, leading up to the stay and during. Her home is very clean and beautiful.
We had everything we needed. She has thought of everything.
Thank you Rachel.
Perfectly situated for exploring the city; the house is clean, well-equipped and very comfortable. Rachel was a fantastic host, answering any queries quickly and providing plenty of information beforehand, making our stay totally stress-free.
Parking was an added bonus.
Would absolutely book one of Rachel & Glen's properties the next time I stay in Canterbury, can't wait to come back!
This is a delightful house in a superb location in Canterbury. The house was very well kept, cleanliness was superb and decor was beautiful.

The house is beautifully furnished with a very well kitted out kitchen making it a very enjoyable stay.

We were a family of six adults and although we were out and about a lot it was lovely to come home to relax in and space wasn't an issue.

The fact that the house has a car park arrangement is such a bonus in Canterbury and certainly made the visit stress free.

Rachel was a great host and very accomodating.

We would definitely visit again.
Lovely place, very clean, and amazing location Great place to stay. Had a great time, if we return to Kent we will definitely be looking into this accommodation again
Highly recommend! Beautiful accommodation, perfect location. Rachel is super efficient to deal with, I wouldn't hesitate staying at one of her properties in the future.
Wonderful home, great location! Would stay again in a heartbeat! Thank you!